"Before Elves, before Dwarfs, before Men, the Old Ones arrived upon this world. Then came Chaos and the Great Plan of the Old Ones was unmade. We are the last of their servants, and only by our hand shall the Great Plan be restored, with the total defeat of the usurping younger races."

— Inscription upon the eastern boundary stone of the temple-city of Hexoatl.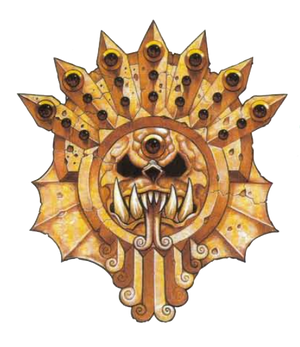 The Lizardmen, sometimes known as the Cold Ones or the Children of the Gods, are an ancient, savage race of cold-blooded reptiles that were at one time the first and oldest civilization within the Warhammer World. Long before the rise of Men, Elf or Dwarf, the Empire of the Lizardmen ruled supreme. Alien, enigmatic, and without mercy, the Lizardmen were there when it all began and will be there when the world draws its last dying breath, never tiring nor relenting until order is finally restored to this uncaring, chaotic world. Such is what they were made to do, for they are the ancient servants of the Old Ones, the one true protectors of this very world.
Characters
Ad blocker interference detected!
Wikia is a free-to-use site that makes money from advertising. We have a modified experience for viewers using ad blockers

Wikia is not accessible if you've made further modifications. Remove the custom ad blocker rule(s) and the page will load as expected.