"Three things make the Empire great; faith, steel and gunpowder."

—Magnus the Pious, Emperor of the Empire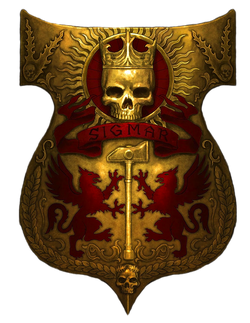 Of the
Human
nations of the
Old World
, the most important by far is that of the
Empire of Man
, more often called simply
The Empire
, forged by the warrior-king and ascended deity
Sigmar
, from the primitive
Human
tribes of barbarians who inhabited what became the lands of the southern Empire more than 2500 years ago. Although not as skilled in craftsmanship as the
Dwarfs
or in magic as the
High Elves
, the people of the Empire are not beholden by the limits of tradition to the same extent as the Dwarfs or High Elves and continue to progress culturally, technologically and magically. Having yet to succumb to any threat, external or internal, it is the faith, the sense of righteousness, and the unconquerable spirit of its citizens which gives the Empire its strength, as well as the ruthless efficiency of its military and religious orders.
Characters
Ad blocker interference detected!
Wikia is a free-to-use site that makes money from advertising. We have a modified experience for viewers using ad blockers

Wikia is not accessible if you've made further modifications. Remove the custom ad blocker rule(s) and the page will load as expected.